Noodweercentrale Netherlands
Weather situation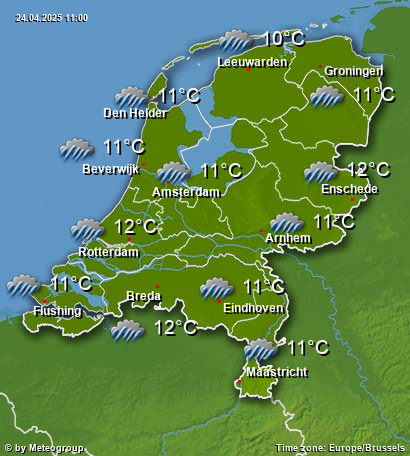 Eindhoven - Morning temperatures will be around 8 °C. During the day they will reach a maximum of 17 °C.
The climate in the Netherlands
Like many other countries in Central and Northern Europe, the Netherlands is part of the temperate climate zone. This means that the climatic conditions are relatively balanced throughout the year. The Gulf Stream plays a crucial role in this, bringing comparatively cool summers and fairly warm wet winters, especially on the coast

However, there are regional differences. As one moves inland, the maritime climate becomes a continental one. Summers in the southeast of the Netherlands are warmer and the winters turn out colder. The temperature difference between the seasons rises by around 2 degrees between north and south.

The average temperature throughout the year is between 9 and 10 degrees. In the summer, when temperatures usually peak in August, they rarely exceed 27 degrees Celsius across the country. In July and August, the average water temperature in the North Sea is around 20 degrees, attracting large numbers of tourists to the beaches. In winter, most precipitation falls as rain or sleet, but rarely as snow. Frost is most common in dry eastern areas. The annual precipitation on the coast is around 800 litres per square metre (Rotterdam) and about 750 litres per square metre in the interior (Maastricht).

The North Sea often brings low pressure systems, especially in autumn and spring. These are often accompanied by stormy winds, so it is always worth taking a look at the latest weather warnings.